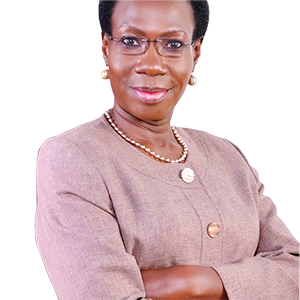 Founder
"I exist to self-express and help others do the same, to the glory of God."
Norah is a talented leadership development and management consultant and executive coach with over 30 years of professional experience. She has been coaching for 12 years and founded Coach Africa Limited, the first professional coaching firm in Uganda in 2006. Norah is one of the coordinators of the Coaching Community in Uganda (CCU), which is spearheading the development of coaching as a profession in Uganda. She is also experienced in mentoring, facilitation, training, and other organization and people development interventions.
Norah's current clientele of over 50 corporate organizations includes international and national NGOs, donor agencies and multi-national organizations. She serves as an associate coach/consultant handling coaching, leadership and organizational development assignments with US-based Training Resources Group (TRG), Centre for Creative Leadership (CCL), and Farnham Castle. She provided organizational development and coaching services for the USAID Mission in Uganda from 2011-2013 and has extensive experience with USAID projects. She is currently leading East Africa regional operations on TRG's sub contract for capacity building on the USAID Preparedness and Response (P&R) Project.
She executes individual and organization development interventions using her skills in human resource management, sales and marketing, insurance, management and leadership, and knowledge of accounting systems, which leads to holistic and systemic solutions.
Norah has a proven track record of motivating teams and supporting her clients in achieving stretch goals. Norah has conducted training in over a dozen countries, including Rwanda, Kenya, Tanzania, Uganda, Nigeria, South Sudan, and the United Kingdom. She is a certified executive coach through the International Coach Federation and holds a professional doctorate in Coaching from Middlesex University.
Norah holds a PhD in Executive Performance, Middlesex University, London, UK, she is a CPC  – Certified Professional Coach; International Coach Academy (ICA),  Accredited by the International Coach Federation (ICF) and holds a Bachelors of Commerce Accounting, Makerere University. She is a member of the International Coach Federation; Coaching Community in Uganda (CCU); Human Resource Managers Association of Uganda (HRMAU); Uganda Women Entrepreneurs Association Limited (UWEAL); and Institute of Corporate Governance of Uganda (ICGU)